Inventory management is one of the parts of a business that is known to be 'boring'. Spending a lot of time and effort on it is not exactly desirable. All the more reason, then, to automate inventory management as much as possible with ChannelDock's warehouse software and fulfilment software. By letting ChannelDock's software do the work, you get to deal with a lot of benefits.
Stock management goals at your fingertips
One possible application of software is to greatly simplify inventory management. Purely by automating many processes and making them centrally transparent. With this, as a webshop manager, you 2always quickly avoid a lot of mistakes, save time and remove obstacles to growth. The inventory goals ChannelDock enables you to pursue are:
#1: Stock synchronisation
Stock synchronisation is one of the best ways to optimise your stock management. Because when you offer products on multiple websites, it is more difficult to keep track of available stock per sales channel.
Adjusting this manually every time per platform is extremely time-consuming. It then makes much more sense to do this at one central point; via ChannelDock. Thanks to this software, it is possible to synchronise all stocks simultaneously. So it is exactly clear on every sales platform how much stock is left. And therefore also when it is time to place a new order with the supplier. Stock synchronisation is extremely valuable when optimising your logistics processes.
#2: Expand sales channels webshop
In addition, what we also regularly see is that people are not yet making full use of all available sales channels. For example, because this is seen as 'too much work'. Available stocks of certain products are then suddenly influenced from multiple sources.
With a platform like ChannelDock, this is no longer a problem. After all, instead of operating from separate sales channels, you only do so from ChannelDock. You will see all relevant information about sales across multiple platforms appear in one location. From Shopify to WooCommerce and Amazon to Bol.com, all these channels are easily linked with a few clicks of a button via ChannelDock. So opt for the potential of additional sales channels, without further complicating logistical processes.

#3: Stock notifications
The moment your stocks start to run out, it is time to place a new order with the supplier. Of course, you want to avoid suddenly running out of stock. Do you do this manually? Then it is a matter of paying close attention and acting quickly. Fortunately, this form of stock management can be a lot more effective.
With ChannelDock, for example, it is possible to receive stock notifications when your stock level drops below a certain threshold. As a result of stock synchronisation, the system knows exactly how much stock is left.

#4: All information in one location
Separate programmes, sales channels and digital, logistics locations make inventory management chaotic. It is then confusing to keep track of your stock on a daily basis. With ChannelDock, you choose a central platform that shows all relevant information in one place. From stock synchronisation (warehouse software) and creating shipping labels (Fulfilment software) to (partially) outsourcing your fulfilment. There are so many functionalities that come along with this software. It is therefore absolutely recommended to try it out once. You will soon find out how it saves your organisation lots of time, effort and therefore money.
Do you feel that the processes of processing, packing and shipping orders are not exactly streamlined yet? And are you curious about ways in which this could be improved? Then aim for the inventory goals above and find out for yourself what automation means.

These days, deploying specialised software is the way forward. From a physical, manual world to a digital, automated environment.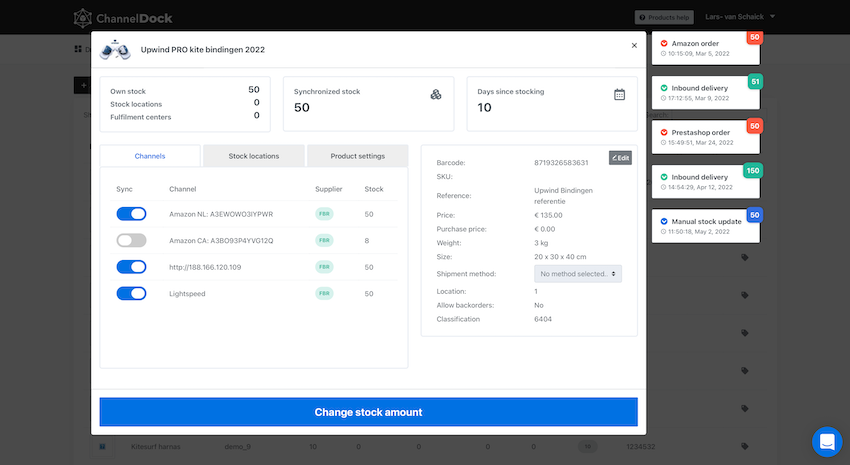 Try ChannelDock 10 days for free.
You can try ChannelDock completely free for 10 days without linking a credit card or other payment method. Prefer a demo first? Click here!