The moment you manage a webshop or run a large e-commerce business, you have to deal with a lot of time-consuming tasks. Especially when it comes to shipping packages and the associated stock management. For example, you don't want to run out of stock while people think there are still products left. Just to name one example. Fortunately, with ChannelDock warehouse inventory management software exists that takes a lot of your tasks off your hands.
Fulfilment software for shipping and warehouse software in one
In many cases, e-commerce sellers use multiple programmes. For example, separate software for shipping parcels and separate software for inventory management. This leads to a lot of unnecessary inconvenience.
For instance, you often have to manually synchronise the different programmes with each other. Something that not only takes a lot of time, but also regularly involves mistakes.

Software for shipping (Fulfilment software) and stock management (warehouse software) in one, on the other hand, is much more up to date. Especially since it is currently more affordable than ever. This makes it not only the future of parcel shipping and inventory management, but also the present.

Why choose ChannelDock?

ChannelDock is a good example of software where parcel shipping and inventory management are handled in one location. With that, there are a lot of unique advantages to this programme. These include:
Saving time: With ChannelDock, you automate most tasks that are normally done manually. For example, the software easily synchronises stock with the different sales channels. Instead of having to do this one by one every time, it is now done automatically. Thereby saving significant time. Moreover, this is just one of the ways this is done. Ordering, packaging and shipping can also be automated in numerous ways.
Lower shipping costs: Besides optimising shipping and inventory management, ChannelDock also works with many fulfilment centres. This makes it possible, for example, to drastically reduce shipping costs abroad. By sending your stock to one or more of the affiliated fulfilment centres/fulfillment companies, you will always receive the lowest shipping price for parcels. It is thus another way to further optimise your logistics processes.

Clear: When you navigate to ChannelDock's dashboard, you immediately notice that clarity is paramount. For example, the options at the top of the page let you navigate easily to your stock management, orders or shipments. A few button presses are then all it takes to make quick, thoughtful adjustments. Thanks to the clear look, you will quickly master this software.

All sales channels in one location: Thanks to ChannelDock, you now have access to all your sales channels in one location. As indicated, ChannelDock synchronises all stocks and orders, via an API link with each sales channel so laid out. This allows you to see very clearly which sales channels you use, which products you sell and where most orders come from. Moreover, you make adjustments easily from ChannelDock. For example, the software synchronises stocks across all sales channels whenever a sale is made anywhere.

Large amount of options: Finally, it is important to stress one more time that ChannelDock is full of options. It is not just a warehouse software for inventory management or fulfilment software for parcel shipping. This programme brings together all sorts of things that are relevant to e-commerce businesses with ambition. From tracking sales and returning orders to customising shipping methods. So you always have access to all relevant information in one location.
So all in all, use our software to curtail inefficient processes as much as possible. With today's technology, it is simply a waste not to do so. In fact, higher efficiency levels lead to significant benefits in several areas. The moment you use it once, you immediately understand what it has to offer. It's not for nothing that more and more e-commerce entrepreneurs are making the switch. Very little beats optimising the 'boring', logistical processes!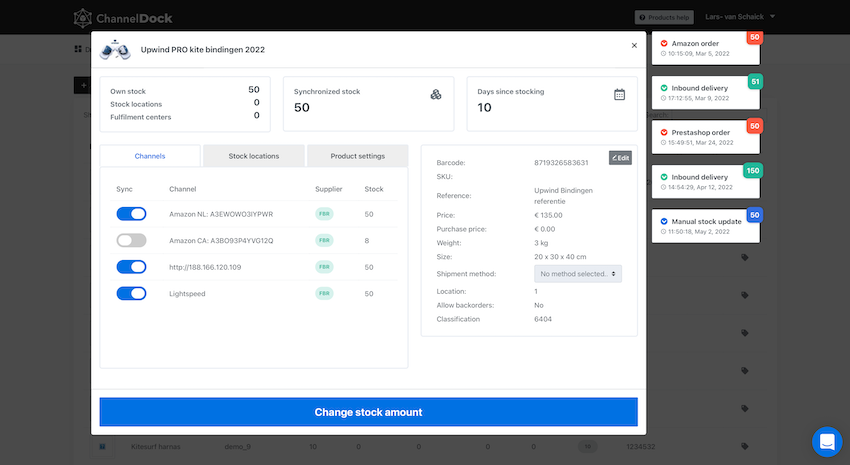 Try ChannelDock 10 days for free.
You can try ChannelDock completely free for 10 days without linking a credit card or other payment method. Prefer a demo first? Click here!