The best fulfillment software
The world's most successful E-commerce and Fulfilment centre companies focus as much as possible on simplifying all kinds of business processes including inventory management. There are always parties that offer more customisation or additional functions. However, you often see that the party with the simplest concept wins. People like it when things are clear and straightforward. This also applies to order management software, hen warehouse software and hen fulfilment software. ChannelDock is the software programme that excels at this in several ways.
What does the best order and inventory management software consist of?

The best order management software is the optimal option on several levels. It ensures that, as an end user, you have the best possible experience. To make this happen, the following points play a big role:

Simple, clear solutions: Basically, it starts with simple, clear solutions. Especially in order management, there is quickly a sense of chaos. Especially when the number of orders starts to rise sharply. What you need then is clear software. This offers you insight into everything you are looking for in one place. ChannelDock is known for not offering unnecessary extra features or unnecessary customisation. A simple, clear form of software that every e-commerce seller can immediately get to grips with.
Scalability: Scalability is another important issue in Fulfilment software and Order Management in e-commerce. For instance, you regularly see people looking for additional sales channels. Integrating these is very easy with ChannelDock. This process has been simplified to such an extent that it is possible for anyone to offer products on different platforms, including bol.com, WooCommerce and Amazon, by linking 't sales channel with ChannelDock with just a few clicks. Order processing then runs through ChannelDock's software. For example, you can see very precisely where an order comes from and what is needed to process it further.

Automation: There is a big role here for automation. In the times we live in, automating processes is highly desirable. Also because the possibilities are simply there to make it happen. You save a lot of time and effort when it comes to order processing and order picking. For example, by combining several orders and processing them at the push of a button. This is just one example of the ways ChannelDock makes this possible. You are almost amazed at the options you have to make your life a lot easier.

All-in-one package: The ultimate simple software model is a concept where you have everything-in-one. Think of things like order processing, fulfilment, inventory management, supplier orders, back orders and tracking sales statistics. How nice is it when all this is possible in one central location? With ChannelDock, this option is now at your fingertips. Indeed, the aim of this software is precisely to make everything as clear as possible. A single menu incorporates all the above options, making it easy to navigate between functionalities.
Clear pricing: Finally, software packages need clarity when it comes to pricing. This too is something ChannelDock excels at. Depending on the sales channels you integrate and the total orders you have, a clear price per month rolls out. These prices then increase only when you start to grow. So you always know exactly where you stand per number of orders.

Optimal order and inventory management

Based on the above points, it is pretty clear that ChannelDock is the right choice. This software brings together everything you are looking for as an e-commerce seller. This was precisely the approach taken when developing the software itself. Why make things difficult when they can be easy?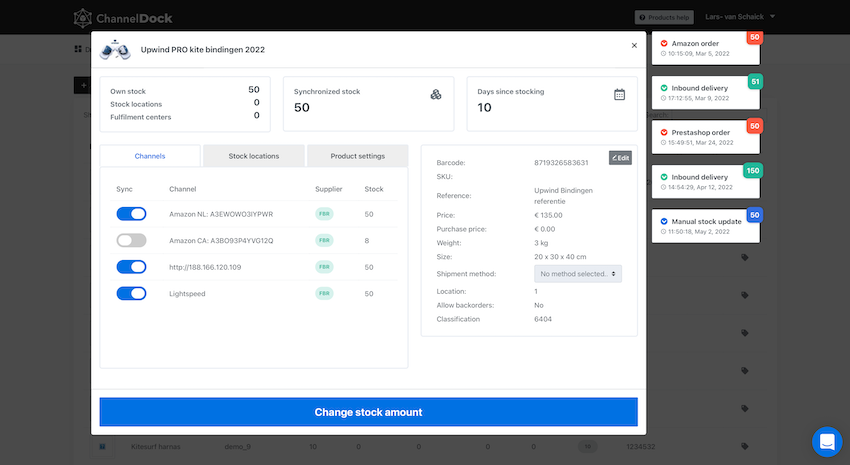 Try ChannelDock 10 days for free.
You can try ChannelDock completely free for 10 days without linking a credit card or other payment method. Prefer a demo first? Click here!